http://img718.imageshack.us/img718/8000/sswl.png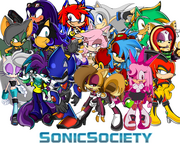 Welcome to SonicSociety!
SonicSociety is a collaborative website dedicated to Sonic fan characters throughout the Sonic community. The purpose of this site is to gather information on fan characters to create one big sonic fan character database. Everything you need to know about your favorite character will be within these pages. Don't see your character? Add your character into our system! We encourage new characters, so what are you waiting for? Click on the "add page" link at the top to start!


Updates
[ 04/27/11 ]
Hello SonicSociety members!
-SonicSociety Team
Latest activity
Ad blocker interference detected!
Wikia is a free-to-use site that makes money from advertising. We have a modified experience for viewers using ad blockers

Wikia is not accessible if you've made further modifications. Remove the custom ad blocker rule(s) and the page will load as expected.